2014-10-22: NEW FULLDOME SHOW: Back To the Moon for Good ⬅︎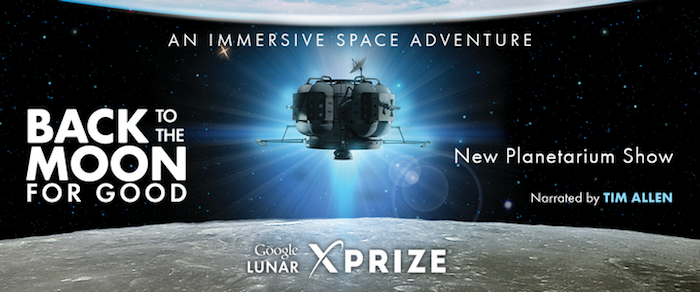 Teams from all over the world are now competing to be the first to land a robotic spacecraft on the Moon, travel it 500 meters over the lunar surface, and send video, images and data back to Earth before the end of 2015.

Why? Our Moon has a land area larger than North America but humans have explored very little of it. There are amazing natural wonders, valuable resources, and unsolved mysteries waiting to be discovered.

And that's where the Google Lunar XPRIZE comes in: $30 million in prizes designed to inspire pioneers to do robotic space transport on a budget. Over a dozen teams from around the world are well on their way to accomplishing this and ushering in a new era of lunar exploration.

The fulldome show Back to the Moon for Good, narrated by Tim Allen (Toy Story), chronicles the efforts of these teams. Starry Hill has acquired rights to show Back to the Moon for Good in our planetarium. If you'd like to schedule this free 25-minute fulldome show for your group, please contact us.